Building Project
IMPORTANT NOTE: This page is now being updated on the City's website. Please check there for updates, or to subscribe to receive updates automatically. 7.13.2021
Library Building Renovation Progress
The library is very excited about the possibility of improving access outside and inside the library, restoring/preserving our historic building, and enhancing services to the community through a renovation/expansion of the Melrose Public Library. The proposed project would include a modest expansion and better utilization of the existing space. The City has chosen to prioritize the library at this time due in part to a significant grant opportunity from the Massachusetts Board of Library Commissioners, which is essential to the success of this project.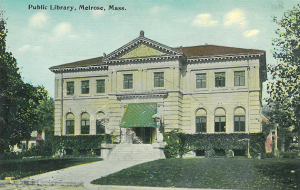 Please check out our frequently asked questions (and answers!) page about this project. The design proposal submitted as part of our application includes these floor plans. Check them out, and feel free to stop in and ask questions!
The basis of the design and the application is the Library Building Program, which was created in 2015. It takes into consideration feedback from patrons and staff members regarding access and usage needs, as well as systems information from DPW (for roof, HVAC, etc.)
A community meeting was held in December 2016, and was reported on in an article by the Melrose Free Press.
To see the full application for this exciting building project, please feel free to come to the library. The application is in a binder behind the Reference Desk. You can access the scanned copy of the application, which does not include the appendices and attachments.
The application was submitted in January 2017, with the approval and support of the Board of Trustees, the Mayor, and the Board of Aldermen. In July 2017, we were excited to learn that our application had been approved, and we were on the waiting list for funding. On July 8, 2021, the Massachusetts Board of Library Commissioners voted to move forward with a provisional grant for Melrose, pending approval of local funding from the City Council.
Many thanks to our architects Jeff Hoover and Charlie Hay at Tappé Architects, Inc.; our project manager Pat Saitta at Municipal Building Consultants; the Friends of Melrose Public Library; the Library Board of Trustees; former Mayor Rob Dolan and current Mayor Paul Brodeur, City Planner Denise Gaffey, the former Board of Aldermen and the current City Council; the Library Building Committee, and all of the patrons whose comments, feedback of all kinds, and encouragement have helped us get to this point.