---
"She's on the case"
Join us for an evening with Sulari Gentill, Hank Phillippi Ryan, and Eva Jurczyk
Free virtual event December 8th at 7 pm moderated by Rachel Raczka of the Boston Globe
Registration is required for this Zoom event!
Everything was fine until it wasn't—a scream in the library, books gone missing the first day on the job, a secret threatening to tear apart a perfect life. We'll discuss intriguing mysteries with critically acclaimed authors Sulari Gentill, Hank Phillippi Ryan, and Eva Jurczyk.
"Investigations are launched, fingers are pointed, potentially dangerous liaisons unfold and I was turning those pages like there was cake at the finish line." —Moira Macdonald, Seattle Times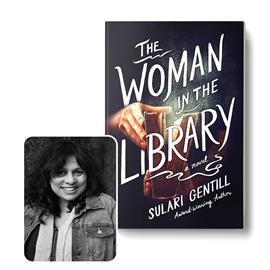 USA Today bestselling author Sulari Gentill has officially captivated readers and librarians with her "elegantly constructed, funny, and profound (PW starred)" mystery-within-a-mystery, THE WOMAN IN THE LIBRARY.
By setting a fun house mirror into the still quiet of the Boston Public Library, award winning author, Sulari Gentill takes us on "thrilling excursion into metafiction that wittily examines the writing process itself (PW, starred)."  But beware: once inside, a world of growing fixation, half-truths, shifting motivations, and a host of secrets buried within the pages engulfs as "one" author tries to write her own fate without losing control of the story.   
---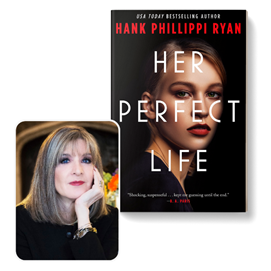 HER PERFECT LIFE by Hank Phillippi Ryan
A USA Today bestselling author of 13 psychological thrillers, HANK PHILLIPPI RYAN has won multiple prestigious awards for her crime fiction: five Agathas, five Anthonys, the Daphne, two Macavitys, and for THE OTHER WOMAN, the coveted Mary Higgins Clark Award. National reviews have called her a "master at crafting suspenseful mysteries" and "a superb and gifted storyteller."
Hank's newest book is HER PERFECT LIFE (Forge Books, 2021), a chilling psychological standalone about fame, family, and revenge which received starred reviews from Kirkus and Publishers Weekly, which called it "A superlative thriller."
---
THE DEPARTMENT OF RARE BOOKS AND SPECIAL COLLECTIONS by Eva Jurczyk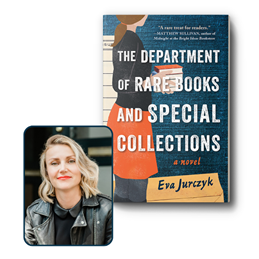 For fans of Midnight at the Bright Ideas Bookstore and Fredrik Bachman's Anxious People, THE DEPARTMENT OF RARE BOOKS AND SPECIAL COLLECTIONS is a darkly comedic, literary mystery about a career librarian who is suddenly instated as the director of a prestigious university collection and its eccentric staff, when a whole host of priceless books go missing. 
---
River Dog Book Co. are selling books in relation to this author talk.
Sponsored by the Burlington Public Library, in partnership with Massachusetts Libraries.